Your guide to shopping for Eco-Friendly & Sustainable Optical Frames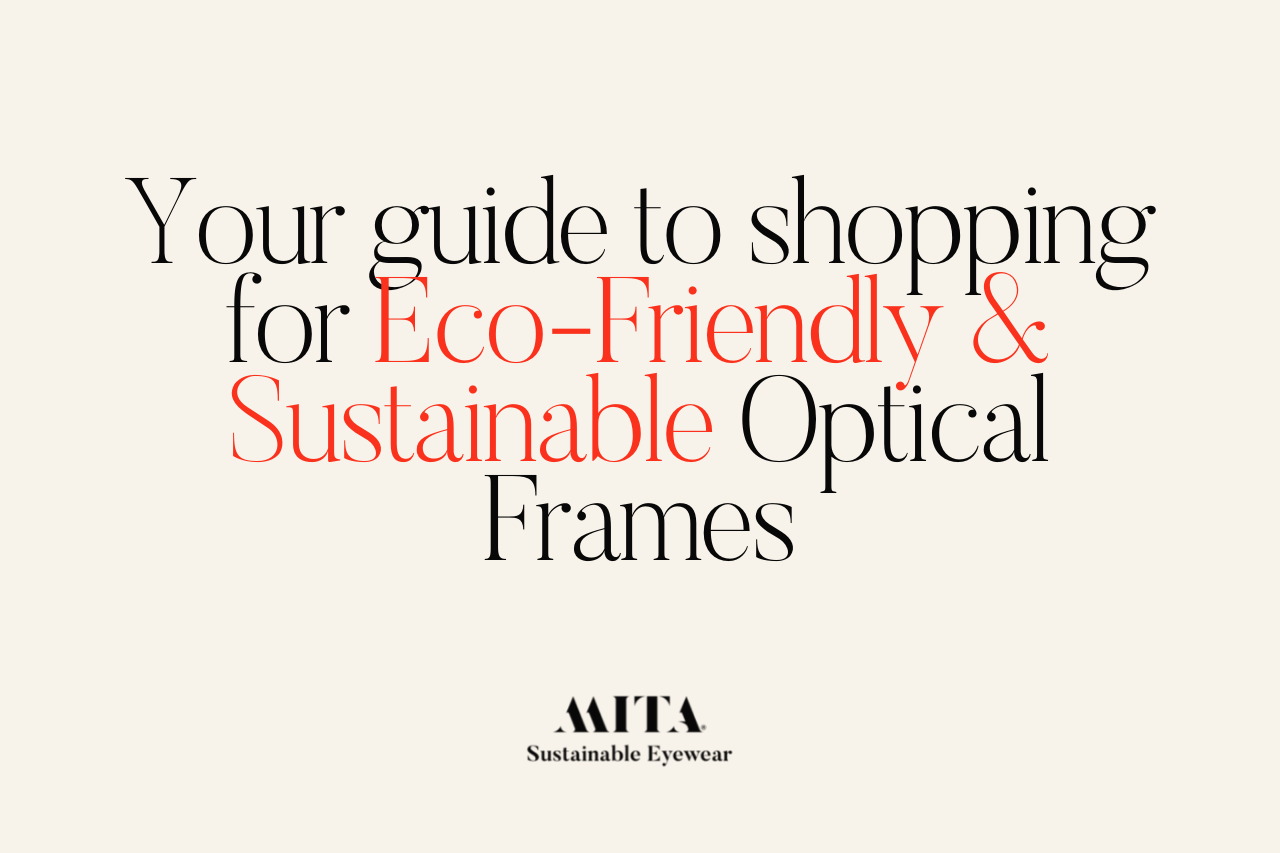 Eyeglasses do so much more than correct our vision and protect our eyes. They are a fashion statement, and one of the simplest ways to elevate your everyday look. 
All of MITA's eyewear - from our sunglasses to our optical styles - are made from recycled materials and sustainable lenses. Each look is thoughtfully designed and crafted from rPET materials, like recycled water bottles or recyclable aluminum, so you feel good in the knowledge that you're helping to protect our planet, and look good in stylish frames that don't sacrifice fashion for the sake of the environment. Our lenses are also sustainable, and guaranteed to decompose into carbon, water, in 5-10 years, rather than the 450 years it takes for a standard pair of lenses.
If you are on the hunt for eco-friendly, sustainable, and ethical eyewear, this guide will help you pick your favorite from our wide selection of stylish frames


FACE SHAPE
If you have a round face, square or rectangle frames can enhance your look by adding balance to round facial features. 

If you have an oval face, frames that suit an oval face have a strong bridge, are geometric, and tend to be wider. 
If you have a square face, eyewear that sits high on the bridge of the nose will look best on you. Go for oval or round eyeglasses.
If you have a diamond face, play up a narrow forehead and chin with frames that are wider than your cheekbones to accentuate your natural look and delicate features. Your best bet are cat-eye glasses and oval frames. 

If you have a heart-shaped face, round or square frames with curved edges will help draw attention away from a broad, high forehead. 
SKIN TONE 
Warm Skin Tone
If you have a yellow, bronze, or golden tone, you have a warm complexion. Avoid pastels, white, or black styles. Opt instead for light tortoise or brown shades, gold or honey, beige, and olive green. 

Cool Skin Tone
If your skin has pink or blue undertones, you have a cool complexion. Go for frames in silver, black, dark tortoise, pink, purple, blue, or gray. 
BLUE BLOCK LENSES 
Between our computers for work and our phones for play, we usually spend upwards of 12 hours a day looking at some sort of digital screen. That's why you should consider blue-block lenses to protect your eyes.
With screens emitting brighter, shorter wavelength light (aka the blue light), these lenses can filter up to 30% of the blue light from digital screens, protect natural sleep patterns, and reduce image distortion, eye strain, fatigue, blurry vision, and headaches. All of our optical styles come with blue-block protection lenses.  
Choosing eyewear is a personal decision, but we're sure you can find the perfect style for you - or a loved one - within our selection.
Shop now.