101 Sustainable Eyewear Gift Guide: Eyewear for Everyone + Sustainable Stocking Stuffers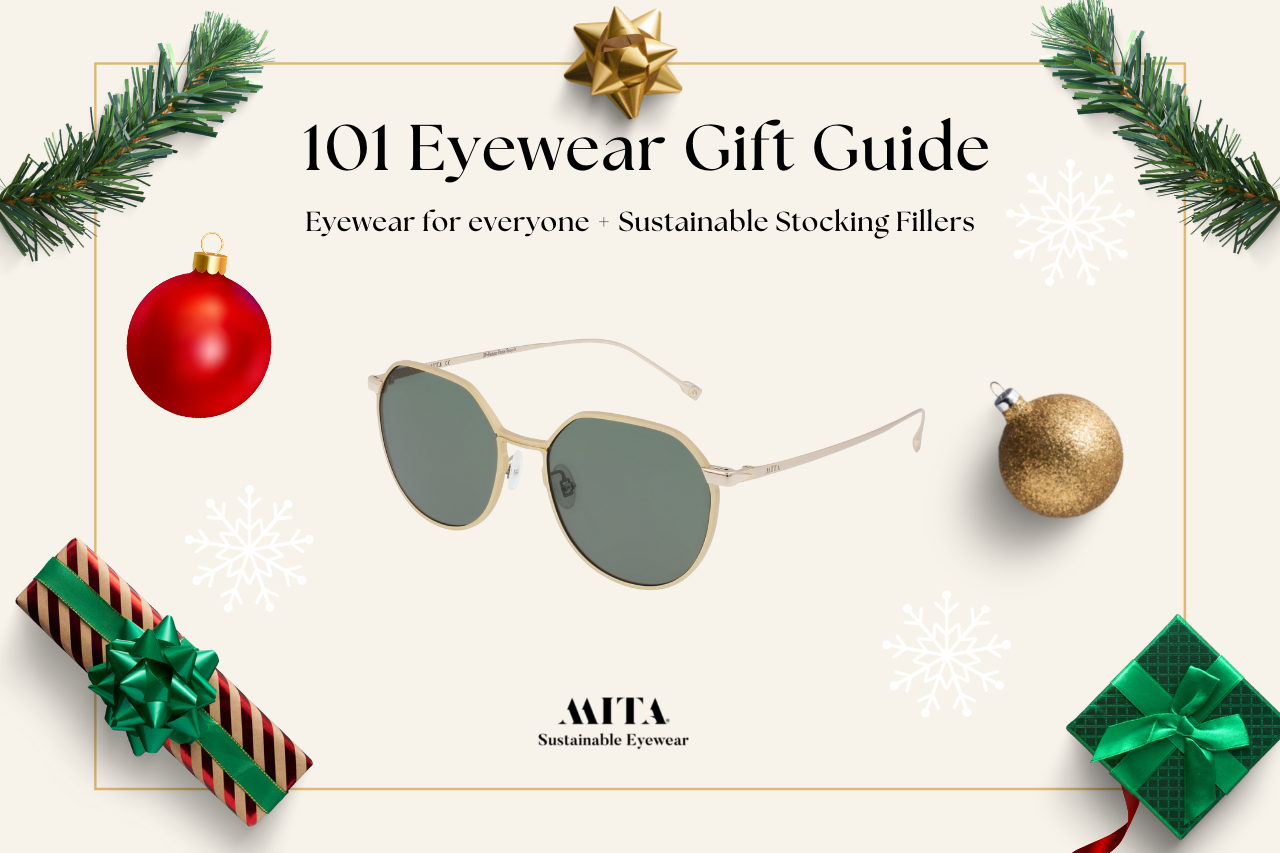 What should you get for all the beloved people in your life this holiday season? Let us help. We've curated the best gifts to help you check everyone off your list. Here's a guide to pick what styles of MITA Eyewear to gift all your loved ones - plus some sustainable stocking stuffers!

Get your sister looking edgy and fashion-forward with vintage AMALFI. These cat-eye frames with a modern matte finish are the it-gift to elevate any of her outfits. Sweeten the deal with Hydrating Eye Masks from 100% Pure, and the Positive Journal by Uncommon Goods. Perfect to get her ready for 2022!

There's no one-size-fits-all gift for moms. She knows best, which is why she will just love MIO1020, our classic wayfarer style with the MITA twist. Pair it with star-studded earrings ethically made by Astor & Orion and class it up with the signature Madison Grace candle. 

A great friend is hard to find. Your BFF deserves all the love and attention when Christmas shopping. The best gift for her is MIO1022, a trendy and bold style with blue-block protection to keep her eyes rested year-round. Level it up with a ruby ring by Daria Day and a charming pouch from Fair Trade Wins.

Picking a gift for the woman in your life can be challenging. Give her the full holiday glam look with SIENA's bold square shape, and style it with Nisolo ethically made boots and a JM Capricorn shopping bag. 

Daddy dearest deserves a bundle that rocks his world. Fill his stocking with a pair of oversized GABLES sunglasses, a Solios watch, and some socks with a cause from Conscious Step. We're sure he'll love it!

If he has been tight-lipped about his wish list this year, this guide is for you. Your boyfriend will be killing the accessories game in our aviators with a twist, AVENTURA, and Allegorie Wallet. Make it extra with a zero-waste shaving kit by Package Free.

And last but not least, your brother will just LOVE a sustainable bundle of PORTOFINO sunglasses, along with the must-read by Bill Gates, "How to Avoid a Climate Disaster", and wrap it all up with a Swell coffee cup. 

Make your list and check it twice. Shop now and pay it in four installments with Pay with Four. 1 year-warranty and free nation-wide shipping on us!